CASEY DUBOIS: Designing with textiles and being inspired by travel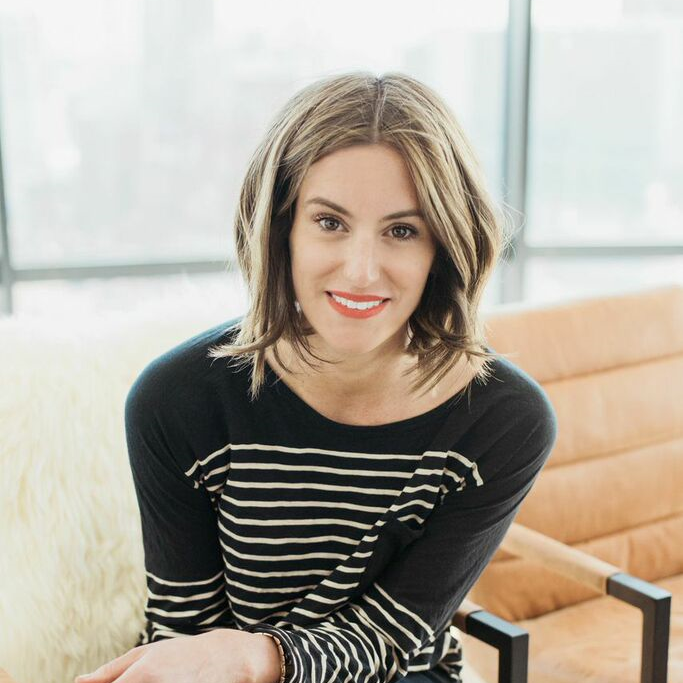 Casey DeBois is no stranger to New York City. Her company's name, DeBois Design, has been associated with the interiors of many of the city's most exciting young start-up companies. I chat with this talented designer in her New York home office about travels, textiles and all of the things that inspire her.
Q: Tell me about your company.
CDB: I worked for a few design firms – a small boutique interior design firm, an architecture firm, and I was also doing some projects on the side. I used to do projects for friends and I've done several of my own spaces. And got to the point where I wanted to do this on my own and I had enough projects to pull the venture off.
And I did it, I think because it's always more interesting working for yourself than working for someone else. When I was out of school, working for designers, I would give my input but in the end, it was their vision, the principal designers. So, it was nice just to have the freedom on my own to do my own thing. 
Q:  Was it scary for you initially to go off and do your own thing?
CDB:  Yeah, it was definitely scary but it was good to be scared. It's not something I would have done when I was younger. I actually had a different career in finance for a bit and I think that was helpful in going off and starting my own business. 
Q:  Do you have a preference between corporate and residential projects?
CDB:  It's interesting - I started with residential projects. But, I feel that they balance each other out because they're so different. Residential projects might be a little bit longer in timing and a lot of the commercial spaces are a bit more fast-paced. So, it's nice to balance it out. Right now, I'm at 75% residential projects and 25% commercial. But it varies - sometimes it's 50/50.
Q:  What's your favorite project that you've done up to date?
CDB:  I have favorite parts of certain projects. I'll start doing the installation and think: "this room is my favorite!" and then they evolve – you know? I couldn't choose just one!
Q:  What would be your ideal project?
CDB:  Personally, I've been looking for a vacation home. I want to make it more about the outdoors than a vacation home. I've also always wanted to do a coastal retreat, like a boutique hotel. Or a small restaurant, a small outdoor space. I think that would be really interesting.
.
Q:  What's a favorite travel destination?
CDB:   I love variety when I travel.  There are places I would love to go to twice but I tend to like to go to different locations every time.
Most of our daytrips revolve around design! Any time I go away, even locally if it's Rhode Island or up the Hudson, I'm always dragging our friends to vintage or furniture stores. And I'm always coming back with lots of stuff for clients and myself.
Just recently, I was in Cuba. And we're looking to plan a trip to Morocco. And it's funny because Morocco, with the heat and it's summer – obviously, it might not work. So, I thought about Peru. And my husband was like: "Why are you choosing Peru?" But for me, it's about the textiles that I want to come back with!
Q:   How would you describe your own personal style?
CDB: I can't classify it as one thing or another because it's more of an eclectic mix of things. It's mixing pieces together for a collected, curated, but still classic, look, which I feel is more timeless.
And I really enjoy pieces that just have good design. So, if I find a piece, like a vintage chair that is beautiful and I appreciate the design of it, I will snatch it up. But it doesn't matter if it's mid-century or regency or more traditional.
In my home – it's a bunch of pieces that make me happy. For the most part, they're from travels. Even looking in my office right now – I have Hawaiian fabric that I've bought on a trip to Hawaii and re-upholstered onto the chairs in my office. It's all things that speak to me. It's this collection of happy things.
Q: What is the one thing in a room that you think makes all the difference?
CDB: I can't stress enough the importance of scale. Scale is such a huge element the design of a space. Some New York City apartments are super small and people will often put furniture that doesn't fit the scale in the space. Or a really big space and they have a small 8x10 rug.
Q:  What would you say are the must-have elements in a room?
CDB:  A wall finish. Paint or wall paper is always something interesting and something that can make a big difference within a space. Rugs and lighting are huge elements that are sometimes overlooked. And artwork too. Artwork is a huge contributor to a space.
I think the furniture part is the easier part.
Q:  Where would you source artwork from?
CDB:  I often work with Uprise Art which is a collective of up-and-coming artists. I also frame anything from textiles to photographs that clients have taken.
And then I have like a whole stable of artists that I buy from often, like Jenny Prinn. I also do custom pieces, because art is such a personal thing.
You have to know the client before going in. And for a custom piece, you need someone who appreciates art because they have to respect the way that artist works.
Q:  How does New York influence you as a designer?
CDB: There's so much inspiration, just in the architecture alone. New buildings, old building – it's always inspiring.
Q:  What makes you unique as a designer?
CDB:  What I do is very personal. I'm helping create a space that a client is going to spend a lot of time in – and that thought and the whole process can be stressful for the client. I think my clients appreciate my calm and relaxed demeanor and know that we are partners in the process.
Going into someone's home and seeing their space and making these decisions is on a very intimate level, where you really get to know each other.
-        Casey DeBois
 Q:  Did you ever really get nervous about something not working out? 
CDB:  It can be a nerve-wracking job but, in my head, I know I can fix whatever might go wrong and it's going to be fine. I know what I'm doing and I'm confident in that. It would be silly to say that nothing can go wrong, but there's always a solution. The light that we waited six months for, came and it broke… it could happen. But we're going to fix it. I might be a little bit stressed but I try not to show it on the outside. For the most part, I think I'm very relaxed and calm and it's really helped me throughout my career.