ANDREA PUTMAN: desert, beaches, and the psychology behind interior design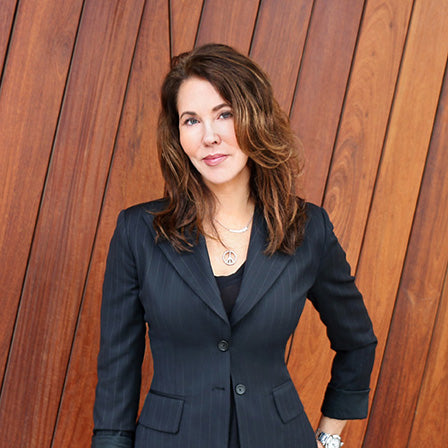 Andrea Putman is one of the founders behind JAC Design based in Los Angeles. I catch up with her in the middle of an installation and we chat about rock and roll in the desert, local artists and how her psych degree intertwines with interiors.
Q:   Let's first chat about your company.
AP:  We started in 2012 after meeting at our kids' preschool and we decided to join forces. We wanted to collaborate because it's just so much more fun than working on your own. I think you can deliver a better product as a firm than you can just as one person.
Q:   Tell me about the dynamic that you work with every day.  
AP:  My co-founder, Christine and I, share our open plan studio with 3 senior interior designers and it is super collaborative. It's a great team and we really enjoy having fun and doing a good job. We try to make the client feel like they're being taken care of. We just want to do a good job and then go back home to our families. There's no drama in our office, we're not about that.  
Q:  On your website, you define 3 different styles that you work in.  
AP: Yeah, so the first one is Coastal Chic –  we're in LA so we've done a few beach houses and that's how we make it feel coastal and beach like but without any shells. It's still very modern feel but it doesn't feel crunchy like a cottage. It's a lot of fun bringing in the colors of the ocean, the feel and the texture without it being pastiche.
And then our Desert Design projects are mostly design-builds. In LA, like with any big city, you have an existing house and you remodel it instead of taking the whole thing down and building it up again. But what we do in the desert is design build so we work with architects to develop the interior of the house and then we also design the furnishings. Desert Design is different because it's just a totally different landscape.  We work with a lot of textures and colors found in the desert. We also try to work with local artists because they just have such different work. But we stay true to our design style which is modern with an edge, a little bit of rock 'n roll in the desert.  
Modern Eclectic works best with people who have collections. When I think of eclectic I think of somebody who's been able to travel the world and understand what different stories a home can tell. We try to bring that to life with either their things or things that we add to their home.
Q:  Do you have a personal favorite out of these 3?
AP:  Oh, that's hard! Probably Modern Eclectic. I'm a collector myself, I have a lot of art and so I really enjoy working with what people have and then adding to it, curating it, making it better, making it impactful. Everything that we're doing, we like to think of as being new and fresh and having a modern edge.
Q:   Can you tell me a little bit about your own home?
AP:  I have a home that people have told me probably has too much art but being an interior designer, I just can't help it! My son's constantly saying, "Don't frame it!", because I seem to frame everything that he makes. I like charcoals, vintage oils, and I like modern acrylic. But most of it abstract art with a little bit of realism and also some modern photos. 
Q:   Do you have a favorite project?
AP:  I really like the Hollywood Hills home. It's not that the furniture is that unique or unusual. But everything together with those spider lights is so impactful. It's a fun kind of project!   
It's always about the client. If they have their eyes opened and they want to do something fun and interesting, then the project is just so much better.
- Andrea Putman
Q:  What differentiates your practice from other designers?
AP:  I think the fact that we are a firm that is super collaborative in the way we approach every single project. We bring on a junior interior designer or project manager and we do the work together from the very beginning. So, the creative process is always collaborative. I strongly feel that approach to any kind of creative project is better because it's not just one head thinking about the project.
Q:  You put a lot of thought into your light fittings. Tell me about your process in terms of lighting.
AP:   That's one of the first things we put in a room. The furniture almost comes from the lighting because we feel so strongly about how important lighting is. It really sets the stage for the rest of the furnishings.
If you have an attitude in the lighting, then it's going to trickle down to the furnishing.
Q:   How do you go about finding and curating the art pieces that you use in your projects?
AP: We have relationships that we've developed through the years with local California artists. One of my favorite things to do is to take the clients to whom I think their artist should be. There is one artist in particular, Emily Vanhorn, who I seem to buy something from for each project that I do no matter what the style. It's amazing how one artist can be in so many different types of homes. But it's because she has a wide range of ability with her artwork. Clients mostly don't understand or even have a feel for what their art should look like. I really feel that once a client starts that process, whatever art piece they buy, becomes a part of their story. I want them to pick the art, I don't want to pick it for them because it's so personal. Then it becomes a relationship between the art and the client which is what I think it's supposed to be.
Q:   What do you love most about being an interior designer?
AP:  I enjoy working with people. I get to meet so many interesting people across a wide variety of businesses and industries and professions. I like this synergy that I get from helping them develop their home. I have a psychology degree and interior design is the same type of work. Working in somebody's home is so personal and you get to know people so well. I mean, you're talking about how they take a shower and where they put their shampoo. It's things that you wouldn't normally ask people on a first date! You're really into people's business. But I like getting to know the people and feeling like we're creating something together. And the fact that they chose us to help them do it, that's a compliment.