KELLY HINCHMAN: finding the muse in every project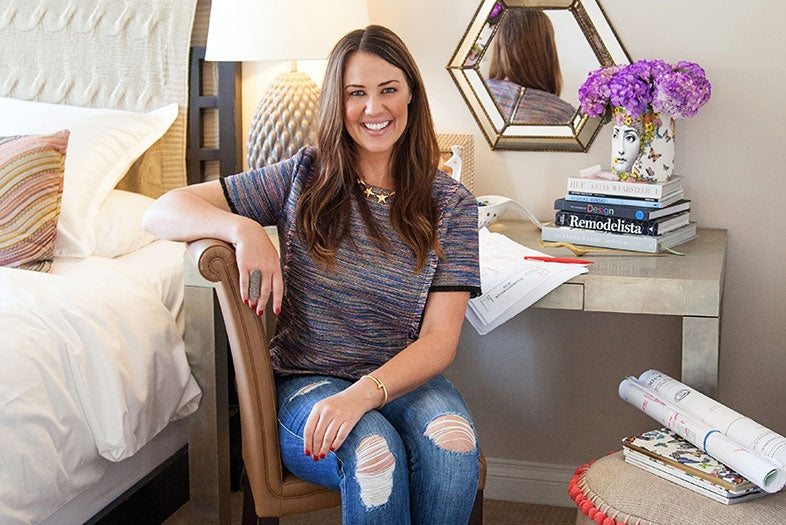 Kelly Hinchman of Studio H Design Group believes that the client is her muse and the greatest source of her inspiration for a project. She chats with me from her San Diego office about multi-sourcing, curation, and customization.
Q:  Please tell me about your company: when did it start, and why?
KH: I was one of the fortunate people that from a young age knew exactly what I wanted to do: I wanted to own my own interior design firm. I worked for a couple of firms when I first started and then I had an opportunity to work for a mentor who's 30 years my senior. When she retired, I formed Studio H Design Group in 2013. I wanted to create a boutique design firm that specialized in high-end residential and select boutique commercial projects.
Q:  And how would you describe your style to a potential new client?
KH:  We definitely have a modern aesthetic, but we also curate and customize interior spaces that work for each client. Most often clients say we have a layered look and approach, a textured look with edgier accents and unexpected twists. We really curate our spaces, sometimes from thousands of vendors for each project and design custom furniture pieces. 
Q: Tell me more about the client as your muse.
KH: When we meet a client for the first time, we like to really learn about them: their family; where they like to travel; how they live in their home. We want to know what they like in fashion and what their lifestyle is. And then we take those hints and we design from there.
Q: You've got family in Ireland. How do you experience the design scene there?
KH:   I like to travel to New York a couple of times a year for inspiration, often to LA and to Paris once a year. When I'm in Ireland I spend a lot of time with my family and it's really nice to get grounded, to be away from the hustle and bustle and to experience a simpler life. That's when you're really able to clear your mind and are able to have new and fresh ideas. In Ireland, there are these hexagonal rock formations and open spaces that are really inspiring. Sometimes, big other cities can be overwhelming with inspiration.
Q: What can you tell me about your own home?
KH:   I live in a condo, in a historic building in downtown San Diego. It used to be a hotel and it was built in 1927. It was a very famous hotel, it was the place to be. Many presidents and celebrities, like the Rat Pack, stayed there and had parties in the restaurant that used to be on the top floor. In the 90's, it was redeveloped to condominiums. So, it has tall ceilings and some old moldings and details which are really special. There is that historical thread in the space.
I made it into a darker, moody space so it could be relaxing when I come home from work. I painted out the moldings and window casings and the walls and ceiling are gray.
I then layered on modern rugs and cleaner, slicker finishes like metals and glass. I also like to thread in vintage and antique pieces. I have some cool antique pieces that I have recovered with modern, funky fabrics. It has a layered, textured look of many generations, with a modern thread.
Q: Do you have favorite project?
KH: That's tough because I always say my favorite project is the current one that we're working on! But we've just photographed 2 of our completed projects on the East Coast. One is in Wellesley, MA which is about 20 minutes outside of Boston. The home is a little bit over 9000m2 feet and we did 25 custom pieces and helped to curate the artwork. We also curated really unique lighting. I love using interesting light fixtures; lighting is really important to me in design.
Q:  If you can script your ideal client or your ideal project, what would that look like?
KH: My real passion is in residential design so it would typically be a newly constructed home or a major renovation where we can really put our fingerprints all over the project. I like working with a client that has an established personal style and who appreciates design and quality of finishes.
Q:  You are also involved with a charity called Home of Guiding Hands. Please tell me more about that.
KH:  That's a really special charity for mentally disabled adults. They have 20 to 30 homes across San Diego and it's a space where these residents can live a wonderful and full life. It relieves the pressure that their families feel in caring for them, and it also gives them a better life with people that are like them and that also need a lot of care and attention.
Q: You're both LEED accredited and a member of the US Green Building Council. How do you see the future of sustainable interior design?
KH:  I think everything we do is becoming more sustainable. In most of our projects, we're using environmentally friendly materials like natural stone or materials that contain recycled content. I also like to use natural fibers like wool carpets, linen and silks to keep things healthy and natural.
Q: Studio H is made up of 4 women. Do you ever find it difficult being a studio of women only?
KH:  Oh, sure, it gets crazy here! But it's more like a family. Everyone has been here for almost three years, working together. We all understand each other's style, how we work, and our different personalities. It's really enjoyable working together!