KARIE REINERTSON & ROB MADDOX: In that space where art and design meet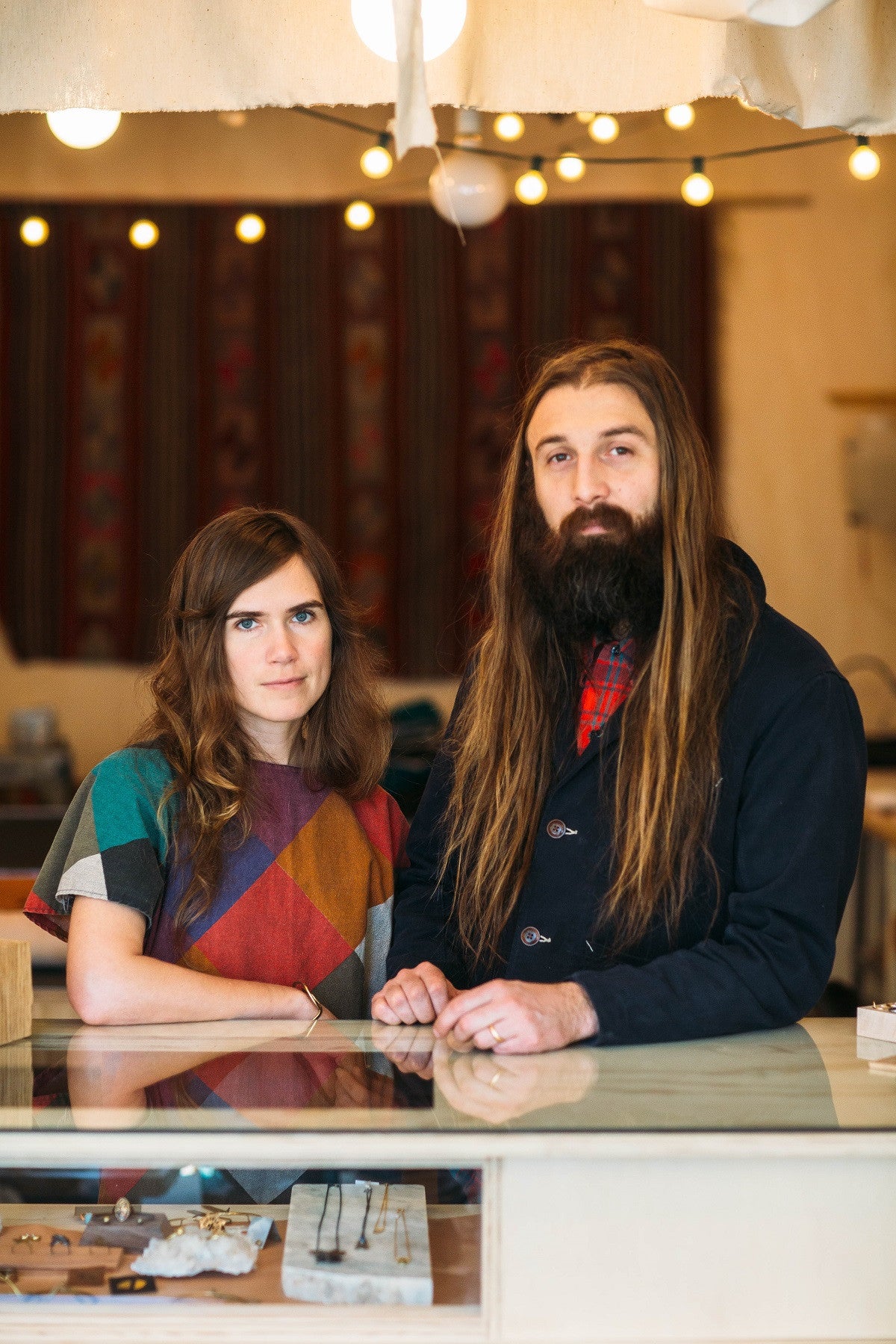 Karie Reinertson and Rob Maddox met as interns in a design/build school in Vermont in 2010. Their dynamic studio Shelter fuse textile design, interiors, craft, fine arts and architecture into an amalgam of creativity and experiential design. This is part of a virtual chat that I recently had with them in their Asheville, NC studio.
Image Credit: Aaron Greene
Q: You both come from very specialised disciplines – fine arts / textiles (Karie) and architecture (Rob). How do you bring that diversity and those disciplines together in a creative studio like yours?
KR: We are always still working on it!
RM: The honest truth of it, it's messy! Just like any design process, we go through a lot of iterations of what we are and what we're trying to be and do. On the one hand, that's really exciting.
Our first project was doing an exhibition design for something that had to collapse and travel between places and now we're doing a restaurant design for a space in a city. So, they're both design, but each time it requires a totally different way of thinking about it.
KR: And how that fluidly happened was, we set the intention to connect architecture and product design, which I think has a lot of commonalities. They are both thinking of 3-dimensional space and somebody's experience with that space.
Just in the past couple of years, that's melded together more and we've explored not just textile products, but we're developing other products right now that have to do with home and space.
Image credit: Tim Robison
RM: Just thinking again about how we evolved over time, that rose from the fact that one of the first things we did when we got our studio space in Asheville, - I was still working independently for a design / build firm and Karie was fulltime with her bag line – and then we decided to open our own store. So, one of our first projects was for ourselves, doing our own curation of goods from the area, and nationwide from things that we loved and thought were beautiful, as well as building our own physical space and running a retail store.
Q: Did you find it difficult to be your own client? And did you constantly second-guess yourself?
KR: Of course! What helped with that space, was that it was spontaneous. We happened to get a studio that also had a storefront.  It was one of those things that felt more like a personal project. And then when we opened the doors and we were like "Oh! Right! We have store now!"
RM: On the second-guessing: with the furniture and millwork, we didn't have a shop space so we were building it in the basement and then bringing it in. And because it was for ourselves, the fear of whether it's right or not was greatly alleviated because I totally made something that was totally stupid, and Karie came in and said, "I think we need to revise this!". Because it was our own space, in our own design practice, it was just a charrette. In charrettes, you're supposed to see if things work or not, and we had the ability to just dismantle, reassemble and turn something that wasn't working into something that was really working.
KR: It was like a 3-dimensional sketch of ideas.
Q: Do you think that having and building your own store gives you a better insight into your clients and their fears?
KR: Absolutely! Just paying attention to how we live in our own home, or how we shop, or how we eat - all of those things significantly impact how we design for others. I think all of those are very relevant influences.
Image credit: Tim Robison
Q: Rob, you mentioned earlier that a project was elegant and rustic. Would you say that you work in that style?
 RM: Yeah, there's a complicated semantic slope there. We're definitely into things that are representative of the things themselves. We don't have a thesis of that yet, because we're still developing that I guess. But not rustic in terms of old barn. Maybe more like simple, earnest materials and crafting.
So, it can be a modern looking table but it would be really cool if it's a modern table that's just very clean, treated white oak, versus it being like composite resin and aluminum with LED strips. Which we are not opposed to! But it's not our vein.
KR: People generally don't contact us for those kinds of projects. They're going off the kinds of things that we've gravitated towards in the past.
Image credit: Tim Robison

Q: What does your ideal client look like? Who would you love to work with or what kind of project would you love to be involved in?
KR: We're always figuring that out! But the clients we've had have been such a pleasure to work with - really playful and open to trying something different. So, they might contact us because they've seen work that we've done in the past and they're excited to see where we're going to go. They want to help support that kind of experiment or take some risks.
RM: I don't know what the ideal is, but East Fork has been a wonderful client to work with. They're local ceramicists here in Asheville that we did a retail space for. One of the things that's been really nice to work with them, is that because they're ceramicists, they work in a field where there's a different language, but there's an understanding of design and aesthetics.
KR: It's about something larger than the relationship. It's about finding the best and most beautiful and enjoyable space together.
RM: We've been very lucky with clients who have been gifted with that language, who trust us, but have also been engaged in the conversation and who want to make it the best. And they are willing to push and to have a dialogue and really analyze what it is we're trying to do.
KR: It's like they have an awareness of themselves and the world outside of themselves so they are able to articulate that. Like what they enjoy about a meal, or a shopping experience, and that seems obvious but it's actually pretty rare for people to reflect on that and pay attention to a sensory and cerebral experience.
RM: I think that's pretty hard to find, but we've been lucky and that's definitely a really cool person and people or organisation to work with.
Q: Would say that delving into the unsaid and exploring different avenues would be your differentiating factor? What makes you unique in what you do?
KR: For me, we have a strong interest in where our design and craft intersect each other and I think a lot of people are gravitating towards that. Like pulling out of this idea of sticking to just one discipline hard and fast. And we do have a clear aesthetic in that we also are curious about where these disciplines meet and questioning this idea of what design is to people or craft. I think that those three things overlapping can create some unexpected and unique spaces that hopefully feel good and fresh as well.
Honestly, this is all we do, all the time, and it has a lot of different languages that we use to describe it. But it really is our lives as people in the world.
- Rob Maddox
KR: Meeting other people that are curious about living their life in a thoughtful, artful way as well. So, looking at every part of life as an artistic expression. We're always seeking that. And maybe that is what comes through.
RM: We do all these things. We love interiors, we also like new-build, and we also love travelling to some other state or country to do a weird artist's residency and, I don't know, build a stone wall. It's all part of our practice. And that total encompassing interest and search hopefully rings true in how we present and what people see of us. That people see we're interesting and exciting and trying new things.
Image Credit: Aaron Greene
Q: Do you have an ethos or a purpose statement? Something like that helps you decide whether you go for a project?
KR: It's about following interest. We're not going to take projects if it's so far out of our understanding or out of our interest because it pays well. We take projects that we feel we have experience with, but also challenge us to do things that we haven't done before.
KR: I don't think we have ever totally clarified an ethos, but we talk about that thing as a studio pretty regularly. I think a lot of it is about working with people that have a clear intention, and of curiosity and engagement with whatever it is that they're doing. It doesn't have to be that we work with other artists, or we are designing something that is exactly in our taste. It's really about the client's mission and if we find that to be beautiful and valuable, we're excited about that. It's a constant collaboration that feels like something that's bigger than each of us separately.
RM: And I think because of the way all of this has come about, we have pretty much been figuring it out ourselves. There is no distinction between our personal lives and our professional lives. It's the same thing, this is all we do.
 
Q: Are you quite happy with that? Because everybody is always striving for work - life balance.
KR: Of course, we're always learning how not to sit in front of a computer late at night or on a Saturday! Whenever we "take a day off", what that means, is that we're traveling somewhere to go look at some kind of architecture, interior or some sort of meet up with someone.
I don't know if I totally believe in balance! I'd love to, but I just think it just depends on what kind of person you are.
- Karie Reinertson
I think I am actually unable to take a full Saturday and not think about any of this because it's all I care about.
Q: So, you're not going to sit on a beach and design from there?
KR: We'll go to the beach and build a cabana!
RM: I think it all comes back to that distinction: the very nature of what we do as people. And we're not necessarily inherently special in this way. When we're in our lives, it's more like play, but still designing or going and searching for things.
Making sure that you still have that balance of not feeling super stressed all the time about somebody else's thing. That's the thing that we're trying to figure out.
Q: You make it sound like an absolute joy, but I'm sure it's not always easy!
KR: We want to do a good job, and of course there's self-imposed stress and external stress. I don't want to represent ourselves as inhuman and that working till 2am is a total joy, because that's definitely not true! But in general, I feel fortunate that not only did we respectively find this work, but together. And we've been fortunate enough to find great clients and great employees and have that constant dynamic.
Q : You have a great Instagram account – how do you manage that on top of everything that you do? 
KR: We have 2, Shelterprotectsyou and Sheltercollective. I use it really personally - if I'm excited about something, I post about it. When I start posting and I feel pressured to do so, or I feel pressured because I want to make sure that I post something that people will like, that's a huge warning sign that I need to pull back and pay attention to things that I'm excited by, and just trust that what I'm excited by, others will be too.
RM: And you've got another account that just pictures of our cat!
KR: Right! It's like awkward things, blurry, really digging into life! Because I love beautiful photos and curation, I want to make sure that I'm not starting to think that's all of what life is, So I have a couple of different accounts that help me to express different parts of what I'm looking at in the world.
Q: Do you always try to incorporate local artisans in your projects? Are there enough in your area to do the projects you want them to do? Or do you source from anywhere?
KR: That's huge for us. We have our huge community of designers and builders and makers, both here in Asheville and all over the country. We try to work with people we know have a high level of craft in their work and are great to work with. This area has a huge history of designers and crafts people, so we have a great group of people that we work with on pretty much every single project. Whether it's somebody that does drywall, down to somebody who will weave a custom basket or wall hanging for a project. That would be a pretty dreamy project, if we could work exclusively with crafts people to make every single inch of a space. That is what we're looking for.  
Feature Image credit: Tim Robison