MAUREEN STEVENS: taking interior design into the digital era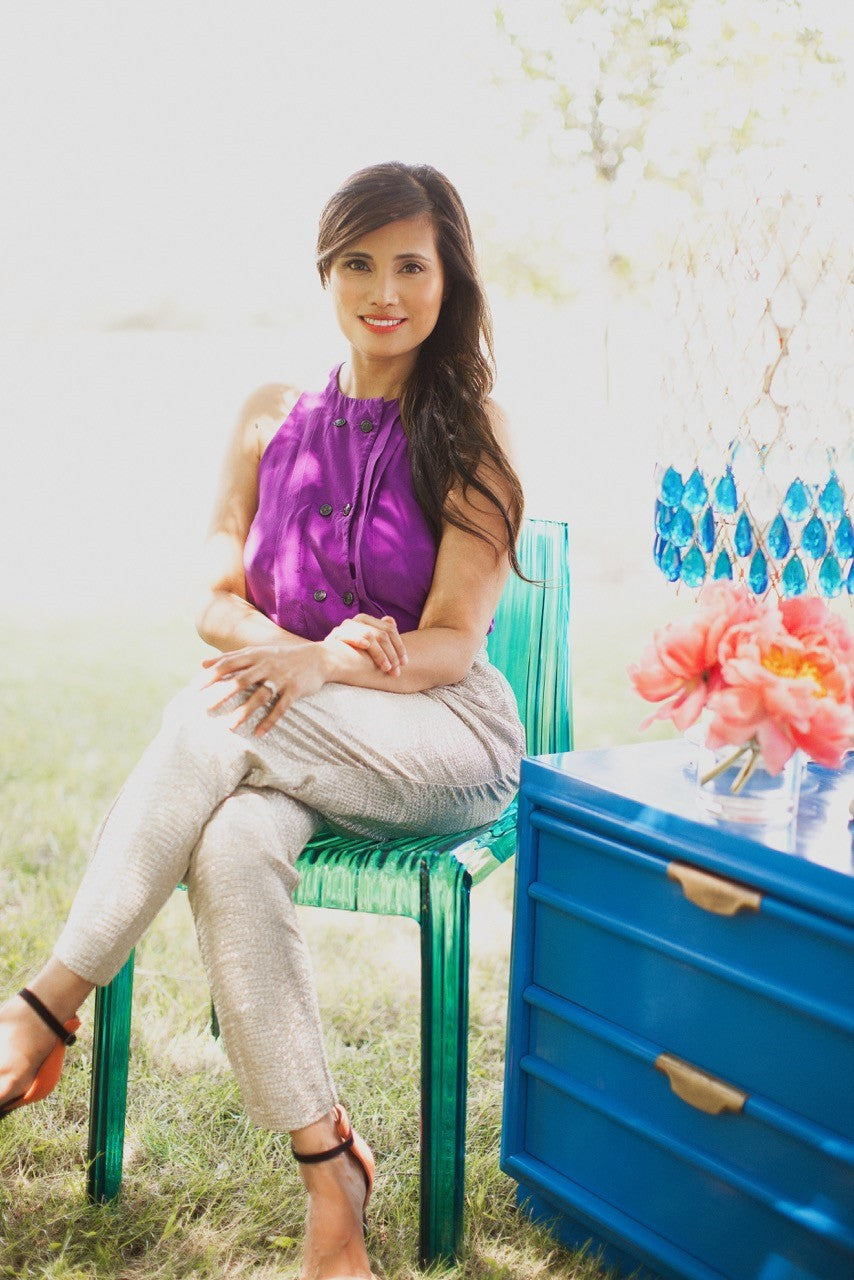 The world is a playground for this Austin, Texas native who has decided to embrace technology and take her design practice digital. I have a chat with designer and stylist Maureen Stevens from Maureen Stevens Styling and Design about her personal style, family and e-design.
 Q:  Tell me about your company. When did it start but more importantly, why?
MS:  It started late in 2013. I have a different background prior to being an interior designer. But the why is really about reverting to what you like doing, when you were a child.  I remember when I was young when I would rearrange things around the house and make sure they are beautiful. I also used to draw and was a little more creative really. As time passes, you go to school and then you hear about responsibilities and what you have to be. I travelled a lot before and seeing architecture and the beauty around the world inspired me to say "Alright: I'm pursuing and nurturing the right side of my brain now." And so, I did, I took the shot.
Q:  You mention travel, so where do you like to travel to?
MS:   It's mostly Europe. That's where I first got inspired. I love the old-world architecture of Europe: Italy, France and Spain. I also went to Morocco last year, so I have all those influences.
Q:  When you get those overseas influences, do you find that translates into your work?
MS:  Yes, I really do. It broadens my perspective. I'm in Texas right now and every city has its own vibe or its own style or finishes that people lean toward. When clients ask me for something I always try give them a new twist. And even if they say they want the common theme of things they see around them, I will tell them, "ok, how about we tweak it and do it a little bit this way?". So, yes, I do think it has a lot of influence on how my work evolves and the choices that I make.
Q:  People always want to know what a designer's personal style is. How would you describe yours?
MS:  I would describe myself as updated classic or modern classic. It speaks to my love of architecture and classic lines. There's nothing I would love more than having a house with crown moulding all around, wall panelling and mouldings, all those architectural details. Something with an old-world feel with added fun and boldness. I don't believe in trends, though. Of course, there are those that influence us, like whatever Pantone's colour of the year is. A lot of people lean towards that but at the same time, I don't do things that I know are just going to pass after a few years.
I tend to go more towards items or styles that I know will last and be beautiful for a long time.
- Maureen Stevens
Q: Tell me about your own home. Do people have a certain expectation of your home because of what you do?
MS:  Yeah, I do find that and I keep telling whoever is coming to the house that I'm very busy and the last place to design is my own! We just moved to another house and it's evolving. In my previous homes, after a while, it kind of gets to that point where it's designed the way I want it to be. 
My style is also very curated. It's difficult to do that for a client because you know them but you don't know them as fully as you know yourself. I always use things like little artefacts that mean something to me from my travels. So, my home is really a collage of different things and different vignettes. It has a Bohemian side to it, it has some classic elements, it has some traditional things, and some modern. It's whatever I love and that really speaks to me. As long as you mix things together in an aesthetically pleasing way, it works.
Q: Tell me about the range of design services you offer
MS:   I got started doing some commercial projects which I really enjoyed. They are not big by any means but because they are commercial they're something you can go a little wilder with. Most of my projects are residential, but I'm also doing a boutique hotel at the moment which is fun because we're curating it with a lot of vintage pieces.
Each client is different: some will need just a colour consult; some will need one room, some will need two rooms. I also find that with many of my clients, it may start with one phase but then it will evolve to the rest of the house after a while.
When clients ask me how I choose which projects I take on – because I don't take all of them – I tell them that I won't take them if I think I'm not really a good fit for them. Or if they're not a good fit for me. Because it's not going to be a good relationship otherwise and this is a relationship you must want to be in.
Q:   Your e-design work, tell me about that. How does that work?
MS:   A lot of things are virtual now. The bulk of my projects are still the ones I see personally but 20% are e-design. We schedule video chats, they take me around their home via video chat and then I come up with solutions for whatever space needs they have. I make a design board, and I also do the sourcing. I can also facilitate the orders for them, but it's up to the client how far they want to go. There isn't a lot of difference between e-design and the personal one-on-one design in terms of the service they receive, except that for an e-design project the client does more of the legwork.
Q:  You mentioned earlier you do colour consulting. Can you tell me about that?
MS:   It may be that new or existing home owners need a refresh and once they go to the paint store they find out there are 20 different whites out there. Or by the time they come to me, they've already done 2 or 3 swatches of colours they like and when it's done they find that they don't like it. So, it's taking into consideration the lighting in the home or the look and feel they want to achieve, even the texture and the finish of the walls. Knowing what they like and dislike and the functionality of the room, and the emotion they want to invoke in the room.
Q:  Do you do colour therapy as well?
MS:  As interior designers, we kind of become our clients' psychotherapists as well! I have a knack of knowing how people are and knowing what they will like and dislike. A lot my previous clients will tell me that they felt I certainly got them and that I'm able to finish that project to the vision that they had.
Q:  So, would you say that a lot of what you do is instinctive?
MS:  I would. Knowledge and experience are very important and I'm very proactive as far as that is concerned but I do think a big part of it is also instinctive.   
Q: Where do you see yourself in 5 years' time?
MS:  I am seeing myself having a team. Right now, my company consists of me, another person and then a part timer. So, in 5 years' time, a team of maybe 4 or 5. I work from home which is what I'm sure a lot of designers do but I would love to have a full office, taking on a lot of different projects. I also dream of writing a book and to have some kind of product line, whether it's bath products or little accessories or wallpaper, not necessarily big things. It may not be in 5 years but it's what I'm gearing towards.
Q:  You're also, amongst other things, a mom of 2 young kids. How do you manage everything?
MS: My husband is very supportive so that helps but yes, it's hard. Of course, when I see clients they don't see that before I went to their house, I had to change my clothes because I had spit-up on it! But it's all a part of it. Family definitely comes first and that's also why I'm learning that I need help. It takes a village to grow the business, it takes a village to serve my clients well and it also takes a village to have a life that is fulfilling and satisfying.
Q:  If you had to describe what you do in one sentence, what would that be?
I'm all about satisfied clients who have positive experiences with our design collaboration and creating completely beautiful spaces that clients will love for a long, long time.